'Every day a new indie' – that's the way I sometimes feel when I'm visiting the Nintendo eShop, watch YouTube videos or browse through my Twitter feed. Or even easier: When having a look at my (physical) collection, where the majority of the games are indeed indies.

All of this is great, since the Nintendo Switch with its mobility aspect is a great home for games developed by independent studios and it's wonderful to see how many studios are supporting Nintendo's current console. Indies and the Nintendo Switch are a great match. Because the amount of quality games are constantly rising, it's often hard to pick a title to buy or play next. I'm facing this issue constantly (and the backlog gets bigger and bigger), I decided to introduce the "Indie Game of the Month" series on Benny Kong to highlight the titles that are standing out to me and give you an idea, which games should not be missed. Not necessarily on a monthly basis, but regularly.

Preservation of Outstanding Titles

By picking my next title to play, I stumbled upon a game that I even wanted to play since I saw the first coverage by Nintendo Life almost 2 years ago:
A gameplay video that made me laugh non-stop, totally weird – and hard to describe what this was all about. But I fell immediately in love with the bizarre and obscure humor and put Pikuniku, developed from Sectordub, on my watchlist. During one of the upcoming Nintendo eShop sales I was able to snag a pretty cheap digital copy, but haven't had any time to play the title yet. So now it's about time! And it seemed like a perfect opportunity, since Special Reserve Games (the producer and manufacturer of extremely limited edition collectible physical versions of the world's most celebrated indie digital video games for Nintendo Switch), was running a limited print edition for Pikuniku!

I had to check out my digital copy basically now to better evaluate if I should get the game for my physical Nintendo Switch collection. Since I'm dedicating here an entire blogpost to Pikuniku, you can guess that I pre-ordered my physical copy already. And good news for you: At the time of writing, there are still some physical copies available for sale.

One of the Funniest Titles I Ever Played! And Weirdest!

Right from the start booting up Pikuniku, I giggled basically the entire time! Again. Luckily I could not remember much of what I've seen in the gameplay video from two years ago – to my defense. Just a couple of minutes in the game, I laughed out loud! So loud, that my girlfriend who was sleeping next to me on the couch, woke up. I tried to explain what just happened in the game, but unfortunately she didn't get it. Either because she was still sleepy – or because sometimes funny things are hard to explain. And this is the feeling I have with Pikuniku! You are just doing things, some make sense, and some don't. And it's funny. You try to solve puzzles, mostly physics-based, and there are wonderful funny dialogs that put a huge smile on your face.

I decided to not give you any concrete examples of what's so funny about the game or give the storyline away so that you can experience this game as spoiler free as possible. Experience the jokes for yourself – it's absolutely worth it.

The writing is just brilliant and underlines the weird set-up your character finds itself in. Pikuniku is an absurdly wonderful puzzle-exploration game that takes place in a strange but playful world where not everything is as happy as it seems. You find yourself in the midst of a deep state conspiracy and will have to help other villagers along the way to overcome their struggles.
Verdict: Humor Meets Depths Meets Puzzles

Pikuniku stands for a colorful and bright world that you can explore at your own pace. You will have to help quirky characters with their unusual requests, will giggle about the dialogues and solve clever puzzles. But there are also platforming elements and mini-games.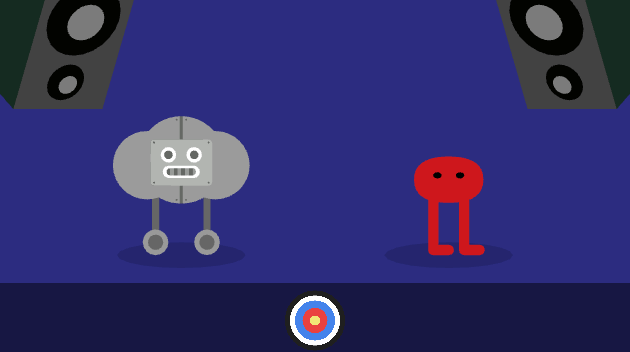 Occasionally there was some backtracking since I didn't know how to proceed, as the game is not always telling you what to do next. Do yourself the favor and try to solve the puzzle by yourself without looking up the solution. It took my roughly 5 hours (okay let's be precise: 4,3 hours) to finish the campaign.

To me there is a decent amount of replayability value since the humor and the writing is just excellent and pretty unique. The writing is so witty! But please note, that I played in English and don't know if the wordplays and the dry sense of humor also works in the other languages the game offers, such German, French or Spanish to just mention a few. There are also multiplayer trophies to find, so in fact I'm looking forward to a 2nd playthrough in couch co-op as soon as this is possible again.

Don't miss out on this wonderful adventure!
Did you like what you read? Please consider subscribing to my newsletter so that I can send you my latest write-ups directly to your inbox.